Are you someone who loves adventure and exploring the great outdoors? Have you ever considered backpacking, where you essentially pack all your gear onto a bicycle and hit the open road or trail? If so, you're in luck! Many bikepacking bikes are available on the market today that can suit your specific riding goals. But with so many options out there, it can be tough to know where to start.
That's why we've put together a visual guide to help you navigate the different types of bikepacking bikes and find the perfect one for your needs. Whether you're a seasoned bikepacker or just starting out, our guide will provide valuable insights on what to look for in a bikepacking bike and which models might be right for you. So let's get started!
1. Introduction: What is Bikepacking?
When exploring the great outdoors on two wheels, bikepacking is the way to go. Bike-packing is an overnight or multi-day adventure on your bike, emphasizing self-sufficiency and packing light. This means carrying everything you need on your bike, from camping gear to food and water.
Bikepacking is about exploring the world around you on your terms, going where you want, and taking as much time as you need to get there. It's the perfect adventure for those who love to cycle and explore and want to do it in a unique, sustainable, and affordable way. So, whether you are a seasoned cyclist or new to the sport, backpacking is a fantastic way to connect with nature, challenge yourself, and have an unforgettable experience.
2. Why Choose a Bikepacking Bike?
After learning about backpacking in the previous section, it's time to address the question: why choose a bikepacking bike? The answer is simple: bikepacking bikes are designed specifically to carry gear and navigate off-road terrain. These bikes are typically sturdier than traditional road bikes and have features such as wider tires, stronger frames, and more mounting points for gear.
Additionally, bikepacking bikes are often more comfortable to ride for long distances and multiple days. Choosing a bikepacking bike will make your adventure more efficient and enhance your experience by allowing you to venture into more remote and beautiful areas. The next section will explore the important factors to consider when choosing a bikepacking bike.
3. Factors to Consider when Choosing a Bikepacking Bike
When it comes to choosing a bikepacking bike, there are a few crucial factors that you should consider. First and foremost is comfort – after all, you'll spend long hours in the saddle. Look for a bike with a riding position that suits you and is designed for long-distance comfort. Durability is another key consideration: you don't want to be stranded in the middle of nowhere with a punctured tire.
Make sure the bike you choose has the appropriate width and tread pattern for the terrain you'll be riding on. Finally, don't forget to think about the type of bike that will best suit your needs. If you venture off-road, a mountain bike with big, knobby tires and a wide handlebar will be your best bet.
A hardtail with suspension or a full-suspension bike might be a better choice for more varied terrain. Ultimately, the key is choosing a bike that matches your riding goals and will help you enjoy the journey, whether planning an overnight trip or an epic expedition.
4. Types of Bikepacking Bikes: Hardtail vs. Full-Suspension
As we delve deeper into bike packing, one of the most common questions is which type of bike is best for the job. While there are many factors to consider when choosing a bikepacking bike, the debate between a hardtail and full suspension is often front and center.
A hardtail mountain bike with a rigid or suspension fork is a classic choice for a bikepacking bike. It's versatile, reliable, and sturdy enough to handle various terrains. On the other hand, a full-suspension bike can offer more comfort and control on technical terrain, especially during multi-day trips. However, a full-suspension bike's added weight and complexity may not be practical for shorter adventures or those on a budget.
Ultimately, deciding between a hardtail and a full-suspension bike depends on your preferences, riding style, and the trips you plan to take. It's important to test-ride different types of bikes and evaluate their performance on the terrains you plan cycling on.
No matter which type of bike you choose, make sure it's comfortable, reliable, and has enough storage capacity for your gear. Your bike is an essential tool when embarking on a backpacking journey, and choosing the right one can make all the difference in ensuring a successful and enjoyable trip.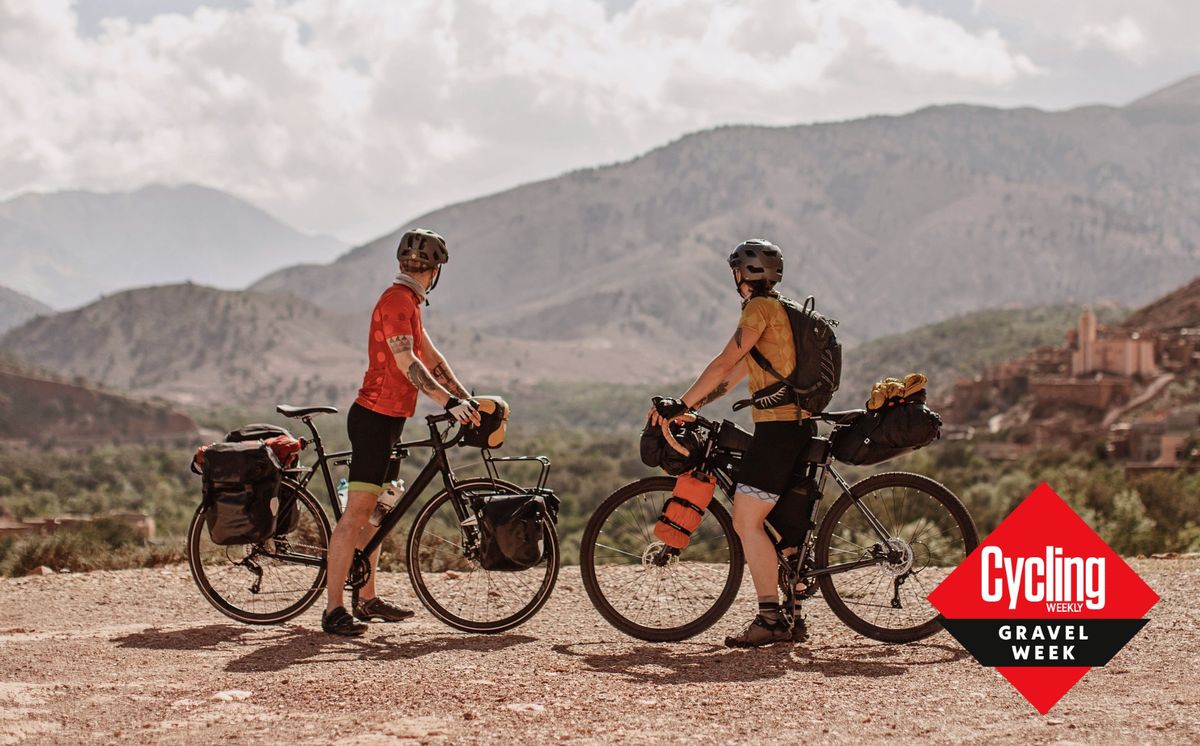 5. Gear Essentials for a Bikepacking Trip
Regarding backpacking, having the right gear is essential to a successful trip. Aside from your bike, there are several gear essentials that you'll need to pack for your adventure. Firstly, investing in quality cycle-specific clothing is a must. Not only will it help keep you comfortable and protected from the elements, but it will also improve your performance on the bike.
Secondly, knowing what to pack is key to keeping your load manageable. Our comprehensive checklist includes essentials for biking and camping, so you can ensure you have everything you need without overpacking. Organizing your gear into groups can be a helpful way to remember what you need and keep your load balanced.
Don't forget to bring a good quality tent, sleeping bag, and sleeping pad for a comfortable night's sleep. And, of course, bringing a reliable light source and repair kit can help you handle any unexpected issues on the trail. With the right gear in tow, you'll be ready for anything on your bike-packing adventure.
6. Planning Your Bikepacking Journey: Route Examples and Tips
When it comes to planning the perfect backpacking journey, there are a lot of factors to consider. In this guide, we've covered some important aspects, such as choosing the right bike and gear for your needs. However, even the best equipment without a well-planned route won't get you far.
Section six includes Planning Your Bikepacking Journey: Route Examples and Tips. We've compiled many resources and ideas to help you choose and plan the perfect off-road or gravel trip. Whether looking for a short overnight adventure or a multi-day expedition, our route examples and tips will help you maximize your backpacking experience. So, grab your map, and let's start planning your next unforgettable journey!
7. The Three Types of Bikepacking: Overnight, Multi-Day, and Expedition
When it comes to backpacking, there are different types of trips you can embark on, depending on your goals and preferences. Firstly, there are overnight trips where you only need to pack the essentials and spend a night in the wilderness. You can get away with a smaller gear setup and a more lightweight bike for these types of trips. Secondly, multi-day trips require more planning and preparation.
You'll need more gear and supplies, so a bike with ample storage is necessary. Finally, for those daring adventurers, expedition bikepacking is the ultimate challenge. These trips can last weeks or months, requiring a larger bike with front and rear suspension. No matter which type of backpacking trip you choose, you must consider your goals, gear, and route planning to make the most of your adventure.
8. Bikepacking Awards: Showcasing Creative Endeavors
As someone who loves to embark on new adventures and explore the great outdoors on my bike, I am always inspired by the creativity and ingenuity of others who share the same passion. This is why I am excited to introduce the Bikepacking Awards, which celebrate the amazing work of talented individuals and teams in the bikepacking community.
These awards showcase the most innovative and creative endeavors in bike packing, including custom-built bikes, unique gear solutions, and stunning photography and video. From small indie brands to established companies, the Bikepacking Awards recognize the contributions of all pushing the boundaries of what is possible on two wheels.
So, whether you are a seasoned bikepacker or just getting started, take a moment to appreciate the amazing work being done by your fellow adventurers and get inspired to make your next trip the best one yet.
9. The Best Camera for Bikepacking Adventures
As a passionate backpacker, capturing my adventures' stunning landscapes and memories is essential. That's why I always bring a camera with me. When choosing the best camera for backpacking, consider the size, weight, and durability, as well as its features and photo quality. A lightweight, waterproof, and shock-resistant camera is ideal for outdoor adventures.
I love using action cameras like GoPro and DJI Osmo Action for their compact size and ability to capture high-quality videos and photos. However, a mirrorless camera like Sony Alpha or Fujifilm X-T4 might be a perfect choice if you prefer more advanced features and manual controls.
Bring extra batteries and a compact tripod to capture those perfect shots. Don't miss a moment of your backpacking journey, and freeze your memories in time with the right camera.
10. Conclusion: Making the Right Choice for Your Bikepacking Goals
After exploring the world of bike packing bikes, we have learned that when it comes to choosing the right bike for your journey, it all depends on your specific goals. Consider the type of terrain you will encounter and the gear you will need to carry. Remember that opting for a more efficient ride, like a gravel grinder, may limit the capacity for carrying gear. At the same time, a fully-suspended mountain bike may have the ability to carry heavy loads but may be heavier and less efficient.
Ultimately, finding the right balance between comfort, speed, and functionality is important to ensure you can achieve your backpacking goals. With the right bikepacking bike and gear, the possibilities for adventure are endless. So what are you waiting for? Get out there and start exploring!
Which bike is the best for backpacking?
After considering the factors outlined in the previous section, you may wonder which bike is best for backpacking. The truth is, there is no single "best" bike for everyone. It depends on your preferences, budget, and specific riding goals.
An endurance or touring bike may be your best bet for those riding on mostly paved roads. A gravel bike or hardtail mountain bike may be more suitable if you tackle unpaved roads or trails. Full-suspension mountain bikes can be great for technical terrain or longer expeditions, but they are more expensive.
Ultimately, the best bike for bikepacking is the one that feels comfortable to you and can handle the terrain you'll be riding on. Don't feel pressured to buy the most expensive or trendy bike – focus on finding a reliable, versatile machine that fits your needs and budget. With the right bike packing setup and a sense of adventure, you can have a great experience on almost any bike.
What is a bikepacking bike?
A bike packing bike is designed for loading gear and embarking on adventurous journeys off the beaten track. It's a versatile bicycle handles different terrains, including singletrack, gravel, and dirt roads. Unlike regular touring bikes, bikes designed for backpacking are built to handle rough terrain, and their geometry and construction make them more stable while loaded.
They are also designed with many mounting points for attaching gear and bags. The idea is to pack everything you need for your trip onto your bike and set off into the wilderness. A good bikepacking bike should be sturdy, lightweight, and efficient. It's an exciting way to explore the outdoors and a great way to escape the hustle and bustle of daily life. With the right bike and gear, you can explore new trails, the camp where you like, and connect with nature like never before.
What type of mountain bike is best for backpacking?
Choosing the right mountain bike for the job is crucial for someone who loves going on backpacking trips. Regarding mountain bikes for bike-packing, hardtails and rigid bikes is the way to go. These bikes are versatile, reliable, and can handle various terrain. They're also more lightweight, which is a huge plus when you're carrying all your gear.
Regarding tire size, aim for something between 2.2-2.4 inches for more comfort and better traction on rough terrain. Additionally, look for a bike with many gear attachment points, such as water bottles, frame bags, and racks. With the right mountain bike, you'll be able to tackle any adventure with confidence and ease.
What are the advantages of backpacking?
As a backpacking enthusiast, I can confidently say that there are numerous advantages to this type of adventure. Firstly, bike-packing allows for a unique and intimate experience with nature that can't be replicated with any other form of travel. Secondly, backpacking gear's lightweight and compact nature means it can be easily transported and set up almost anywhere, allowing bikers to explore nature's hidden gems.
Thirdly, the physical challenge of backpacking is a great way to stay fit and healthy while pushing yourself mentally and emotionally to conquer new territory. Lastly, the camaraderie and community surrounding the sport foster a welcoming and supportive environment where riders can connect with others who share a passion for exploration and adventure. The benefits of backpacking are numerous, and I highly recommend trying it!
Summary
I think backpacking is an exciting and adventurous way to explore the world on two wheels. Choosing the right bike is crucial to the success of your journey, and this guide has provided valuable information on how to make the best choice. We have discussed the various types of bikepacking bikes, factors to consider when choosing a bike, gear essentials, and important tips for planning your trip.
Additionally, we explored the three types of backpacking and showcased creative endeavors through the Bikepacking Awards. Finally, we discussed the importance of capturing your adventure with the best camera. Overall, this guide has been a comprehensive resource to help you make the right choice for your backpacking goals.