BMX bikes are a popular choice amongst thrill-seekers and adrenaline junkies. With their small frames, chunky tires and impressive maneuverability, BMX bikes are designed to be ridden on rough terrain and to perform gravity-defying stunts. Whether you're a seasoned pro or a beginner looking to get started in the sport, understanding what a BMX bike is and what makes it different from other types of bicycles is essential. In this blog post, we'll take a closer look at the features that make BMX bikes unique, their history and how to get started with your very own ride.
1. What is a BMX bike?
As I mentioned earlier, a BMX bike is an off-road sport bicycle designed for racing or stunt riding. What sets it apart from a regular bike is its small size and durability. The term 'BMX' actually stands for bicycle motocross, a reference to the motocross-inspired racing and tricks that BMX bikes are often used for. The history of these bikes can be traced back to the 1970s in California, where kids began racing their bikes on dirt tracks.
Today, BMX has exploded into a popular global sport with many different disciplines. Regardless of which type of BMX riding you're interested in, the bike's rigid frame, compact size, and 20in wheels make it perfect for tackling off-road terrain and performing impressive stunts. Overall, a BMX bike is a unique and exciting way to explore the outdoors and push your limits as a cyclist.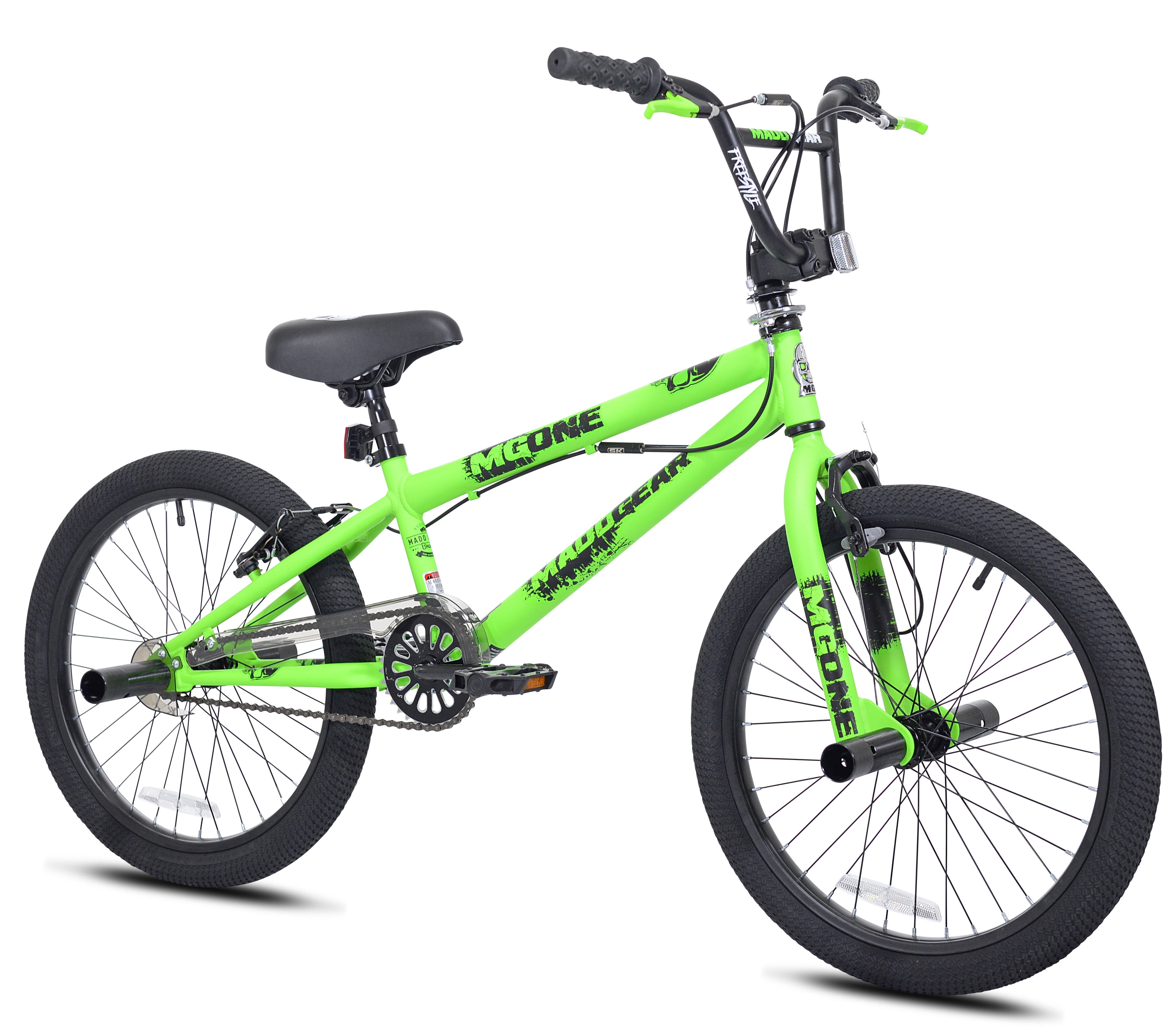 2. The meaning behind BMX
When someone asks me "What is a BMX bike?", I often start by explaining the meaning behind the acronym. As we learned earlier, it stands for Bicycle Motocross, which refers to the off-road racing aspect inspired by motocross. But BMX bikes have evolved beyond just racing and now encompass a variety of disciplines such as freestyle, street, and park riding.
Despite the different styles, all BMX riding involves performing tricks and jumps on a heavy-duty bike designed specifically for this purpose. BMX bikes have a unique style and feel that set them apart from regular bikes and make them perfect for riders looking to push themselves and their limits. Riding a BMX bike requires a combination of skill, fearlessness, and creativity, making this sport both challenging and rewarding.
3. Evolution of BMX bikes
The evolution of BMX bikes is a fascinating story of innovation and progression. It all started back in the 1970s when BMX bikes first made their debut. These bikes were born out of a desire to replicate the excitement of motocross racing on a smaller, more affordable scale. Initially, the BMX bikes were made with a single speed and lacked suspension. However, as the sport gained popularity, new designs and features were developed.
Today, BMX bikes come with multiple gears and suspension for improved comfort and performance. The double diamond frame remains a staple of BMX bike design, though now made with lighter materials like chromoly tubing.
As freestyle BMX riding emerged, bikes began to be designed with heavier-duty frames, larger handlebars, and stronger brakes to withstand the impact of stunts and tricks. Despite the changes in design, the essence of BMX remains the same: a quick-handling, race-worthy, and rugged bike suitable for racing and freestyle riding alike.
4. Different types of BMX disciplines
As we discussed earlier, BMX bikes are built for a variety of disciplines, each with its own set of challenges and requirements. Broadly speaking, there are three main categories: racing, freestyle, and street. BMX racing is all about speed, focus, and agility, and is usually performed on a dirt track with jumps, banked turns, and other obstacles.
Freestyle BMX, on the other hand, is all about creativity, style, and innovation, and involves performing tricks and stunts on a variety of terrain, including ramps, rails, and other features. Street BMX is similar to freestyle, but takes place in urban environments, with riders using stairs, ledges, and other features to showcase their skills.
Each of these disciplines requires different skills, techniques, and equipment, and can offer riders a unique and rewarding experience. By choosing a discipline that suits their interests and abilities, riders can explore the many joys and challenges of BMX riding.
5. Off-road racing vs. stunt riding
When it comes to BMX riding, there are two main disciplines: off-road racing and stunt riding. While both require a BMX bike, they differ in their purpose and style of riding. Off-road racing is all about speed and agility. The rider navigates through a course filled with obstacles, jumps, and turns, trying to finish first.
Stunt riding, on the other hand, is focused on performing tricks and jumps. Riders go to skateparks, urban areas, or other settings to show off their skills and creativity. BMX bikes are designed to handle both disciplines, with features such as lightweight frames, strong wheels, and responsive brakes.
However, riders must choose the appropriate BMX bike and equipment for their chosen discipline, as well as follow safety guidelines to avoid injury. Regardless of which discipline one chooses, BMX riding offers a thrilling and rewarding experience for those who enjoy the adrenaline rush and the freedom of riding.
6. Features of a BMX bike
When it comes to BMX bikes, there are a few key features that set them apart from regular bikes. These bikes are designed to be quick-handling, rugged, and race-ready for off-road action. They typically have knobby tires for better traction on dirt and other loose terrain, as well as lightweight frames and parts to make them easier to maneuver.
Additionally, most BMX bikes will have a strong rear brake for quick stopping power during races and other high-speed riding. Whether you're into dirt racing or freestyle stunts, a BMX bike is the perfect choice for anyone looking to take their cycling skills to the next level. So if you're up for the challenge, grab a BMX bike and hit the trails – you won't be disappointed!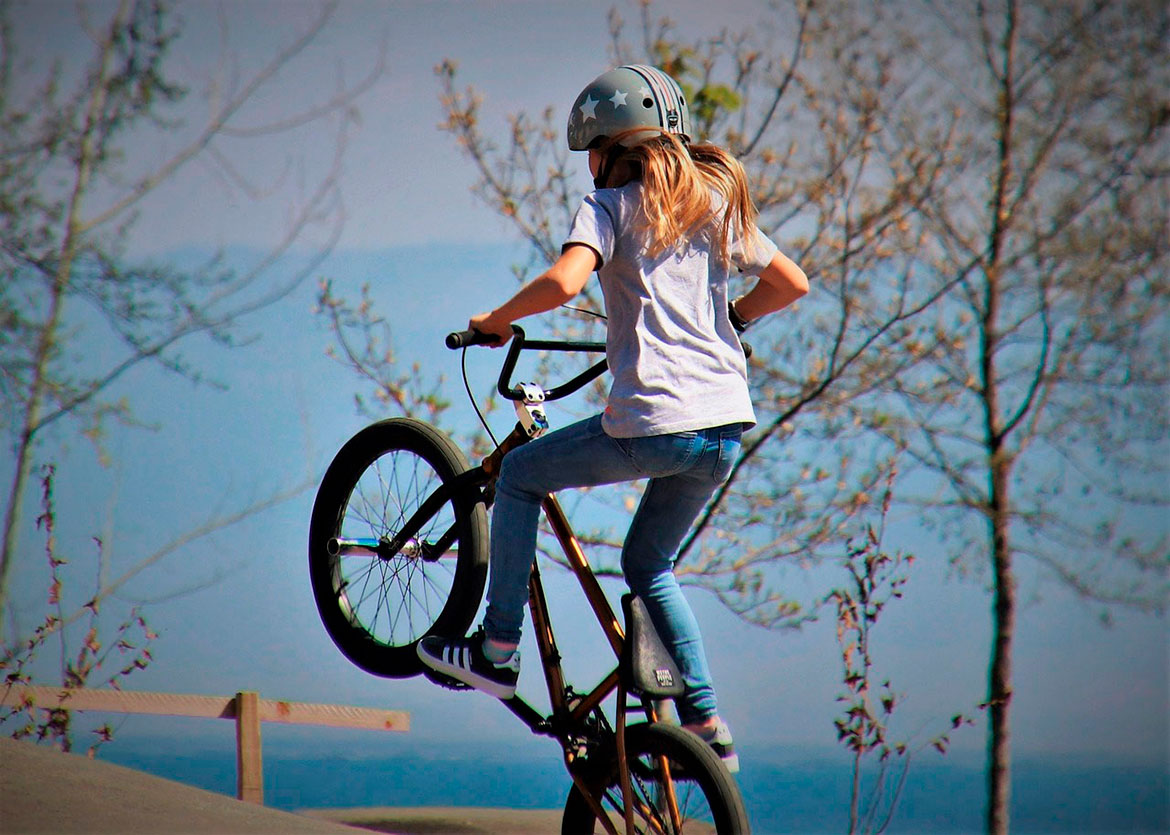 7. Benefits of riding a BMX bike
After learning about the history, evolution, and different disciplines of BMX riding, it's clear that riding a BMX bike can come with a multitude of benefits. Not only can it strengthen lower back muscles and build leg muscles, but it also improves balance and coordination, helps to relax the body, and provides a great form of exercise.
Additionally, BMX bikes are portable and lightweight, making them easy to use and transport to popular riding locations. As a BMX rider myself, I have experienced firsthand the thrill of achieving new tricks and making progress in my skills. However, it's important to always prioritize safety and wear proper protective gear while riding. Overall, riding a BMX bike can offer countless physical and mental benefits and is a great way to push oneself to new limits.
8. Popular BMX riding locations
As a BMX rider, I can attest that finding the perfect riding spot is crucial for a great riding experience. That's why I've compiled a list of popular BMX riding locations. From skateparks to dirt trails, these spots cater to all types of BMX riders. For freestyle urban riders, city parks and plazas offer endless possibilities for trick riding.
For those interested in racing, BMX tracks can be found all over the world. Dirt jumps and trails are also a popular choice for riders who enjoy off-road adventures. Some notable locations include Woodward East in Pennsylvania, Joyride 150 in Ontario, and the infamous Brooklyn Banks in New York City. No matter your riding style, there's a BMX spot out there for you to explore and conquer. Just remember to always ride safely and respect the rules of the location.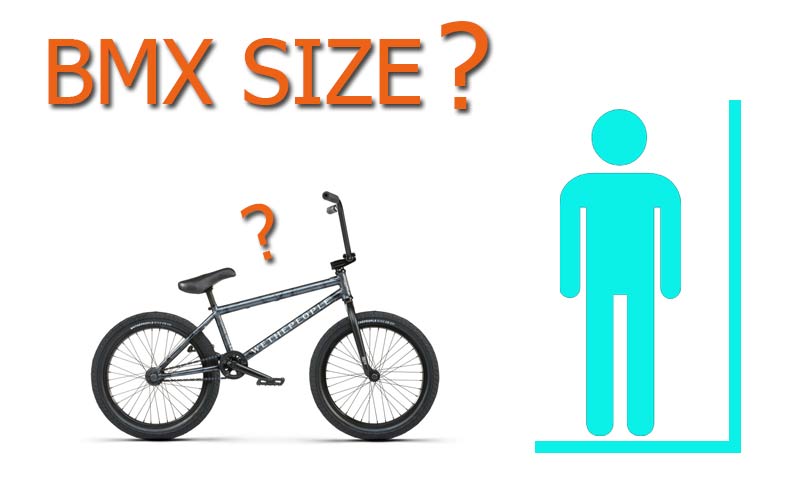 9. Safety tips for BMX riders
As a BMX rider, safety should always be a top priority. In addition to wearing a helmet, it's essential to make sure that all of your skin is covered when riding. Long trousers, a long-sleeved top, ankle-covering socks, gloves, and a full-face helmet are all must-haves. It's also critical to invest in high-quality protective gear, such as elbow and knee pads, to prevent any injuries.
When riding, always obey the rules of the road and avoid stunts or tricks that could put you in harm's way. Additionally, it's important to check your bike's brakes, tires, and other components regularly to ensure they're in good working order. Never ride alone, and always let someone know where and when you're going riding. By following these safety tips, you can minimize the risk of injury and enjoy your BMX riding experience safely.
10. Getting started in the world of BMX riding
When it comes to getting started in the world of BMX riding, there are a few things to consider. First, it's important to pick the right bike for your needs. As we've discussed, BMX bikes are built with nimble, responsive frames that allow for maximum control and movement. Next, it's important to find a safe and suitable riding location.
Look for BMX parks or other off-road areas designed specifically for this type of riding. And of course, safety should always be a top priority. Make sure to wear proper protective gear, such as a helmet, and take the time to learn the basics before attempting any complex stunts. With the right mindset and preparation, BMX riding can be a rewarding and exciting experience.
What is the difference between a BMX bike and a regular bike?
When discussing BMX bikes, it's important to highlight the differences between them and regular bikes. While regular bikes are designed for transportation and leisurely rides, BMX bikes are built for off-road racing and stunt riding. BMX bikes have knobby tires that provide better grip on dirt tracks, while regular bikes have slimmer tires that are ideal for smooth pavement.
BMX bikes also have smaller frames, narrower tires, and no suspension, making them lighter and more agile. Additionally, BMX bikes are single-speed and have smaller radius wheels, which are better suited for quick speed changes and tricks.
Overall, the primary difference between BMX bikes and regular bikes lies in their design and intended use. BMX bikes are made for challenging terrain and high-performance riding, while regular bikes are better for transportation and leisure activities.
What makes a bike a BMX?
A BMX bike is more than just a regular bike with a flashy design. What makes a bike a BMX is a combination of factors, including its lightweight construction, smaller frame, and specialized components. BMX bikes are typically made with alloy frames that are designed to withstand the rigors of off-road racing and stunt riding.
They have 20-inch wheels, which provide nimble handling and a low center of gravity for better stability. Additionally, BMX bikes have smaller handlebars and saddles, making them more compact and easier to maneuver. These unique features, combined with their durable and lightweight construction, make BMX bikes the go-to choice for riders aiming to compete in off-road races or perform tricks and stunts.
What is a BMX bike good for?
As I mentioned earlier, BMX bikes are primarily designed for completing jumps, tricks, and stunts. They are less suited for riding on roads and long distances. However, if you're looking for a bike that can handle off-road racing, freestyle riding, and bike street racing, BMX bikes are the way to go. Thanks to their nimble handling and ability to maneuver easily in tight spaces,
BMX bikes are also great for road riding. But what sets them apart from regular bikes is their compact and sturdy frame, which makes them suitable for performing tricks and stunts without fear of damaging the bike.
Whether you're a seasoned rider or just starting out, BMX bikes offer a thrilling and exciting experience that is hard to match with any other type of bike. So, if you're looking for a bike that can handle all sorts of challenges and give you hours of fun, a BMX bike is definitely worth considering.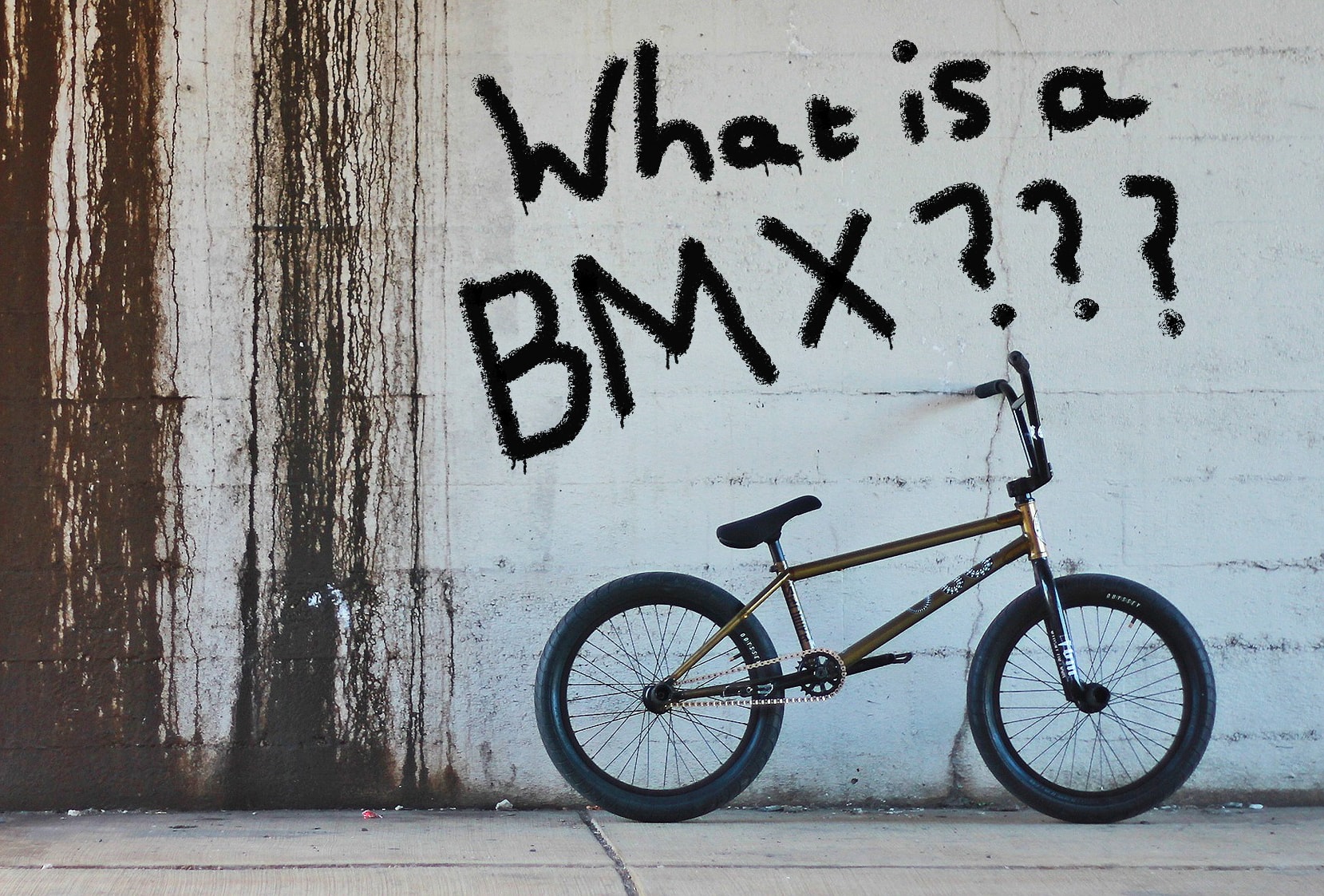 Are BMX bikes good for riding?
When it comes to riding, BMX bikes are excellent for those who love off-road adventure and want to try out new tricks. While they are not designed for long distances, they excel in quick jumps, stunts, and aggressive riding. Their sturdy and durable frames make them a perfect choice, and their compact size allows for excellent control and maneuverability.
BMX bikes are also great for developing bike handling skills, making them a suitable choice for those wanting to transition into mountain biking. Riding a BMX bike provides a thrilling and exciting experience, which is why it's a popular choice among X-Gamers and adrenaline junkies alike.
However, it's important to take safety precautions when riding a BMX bike, especially when attempting stunts and jumps. Overall, BMX bikes are an excellent choice for those looking for a fast and exhilarating riding experience.
Summary
In summary, a BMX bike is an off-road sport bicycle designed for racing or stunt riding. The term BMX stands for bicycle motocross, which originated in the early 1970s as an offshoot of motocross. These bikes have small wheels with knobby tires, making them suitable for gripping off-road dirt tracks. BMX bikes are designed to be smaller and lighter than normal bikes to offer greater efficiency while riding. There are different types of BMX disciplines, such as racing and freestyle.
The sport is based on the premise of racing fast on off-road tracks, while maintaining balance on the bike. The features of a BMX bike include a carbon fiber frame, small wheels, and lightweight construction. Riding a BMX bike has several benefits, such as improved physical fitness, enhanced balance and coordination, and development of risk management skills. Popular BMX riding locations include skate parks, dirt tracks, and urban areas.
Safety tips for BMX riders include wearing protective gear, inspecting the bike before riding, and riding within one's skill level. If you're interested in learning more about BMX riding, it's crucial to start with the basics and build up your skills gradually.