Are you a daredevil looking for a new way to get your adrenaline pumping? Have you ever considered riding a BMX bike with no brakes? While it may seem crazy, a community of riders swears by this riding style. In this guide, I'll show you everything you need to know to start your no-brakes BMX adventure. So buckle up (or buckle down), and let's dive in!
BMX Bikes With No Brakes – 10 Steps Complete Guide
Hey there, fellow BMX enthusiasts! So far, we've discussed why some BMX bikes have no brakes and what they're used for. Now, let's dive into owning and riding a brakeless BMX bike. In this section, I'll share my experience and tips on navigating ten steps to becoming a pro on a brakeless BMX bike.
We'll cover everything from basic maintenance to advanced tricks and finding your community. With dedication and practice, you can ride like a pro and take on any obstacle. So, grab your bike, and let's get started on this exciting journey!
Step 1: Choosing the Right Bike
When choosing the right BMX bike for riding without brakes, I always prioritize two key factors: the bike's weight and the frame's geometry.
A lightweight bike is essential for successfully mastering the tricks and maneuvers you'll need to know to ride without brakes. And the right frame geometry can help with stability and balance, giving you the control you need for your riding style.
But beyond weight and frame geometry, it's also important to consider factors such as wheel size, tire width, and handlebar height, which can vary depending on the riding you'll be doing. Taking the time to choose the right bike now will pay off in the long run, allowing you to focus on honing your skills and enjoying the ride.
Step 2: Basic Maintenance and Safety Checks
Now that you've chosen the right BMX bike and are ready to ride without brakes, it's crucial to prioritize basic maintenance and safety checks. This is crucial in ensuring your bike is optimized for performance and longevity.
First, ensure your bike is clean and free of debris or damage. Check that all bolts and screws are tight and that your handlebars and seat are adjusted to the appropriate height. It would be best to inspect your tires, ensuring they are properly inflated and have enough tread to ride safely.
Finally, take the time to test your brakes and make sure they are functioning correctly, even if you plan on removing them. By paying attention to these small details, you'll be able to enjoy a safe and enjoyable ride every time.
Step 3: Learning How to Stop Without Brakes
Okay, we've got our brakeless BMX bike and are ready to ride. But how do we stop without brakes?
It may seem daunting initially, but it's doable with some practice. In step 3 of our guide, we'll cover different techniques for slowing down and stopping on a brakeless BMX bike.
From foot jamming and dragging to using obstacles to slow down, we'll show you how to control your speed and come to a safe stop. It's important to master these techniques before moving on to advanced tricks, so take your time and don't rush it. Safety first!
Step 4: Footjamming and Dragging
Now that you've learned to maintain your bike and stop without brakes, it's time to move on to more advanced techniques. Footjamming and dragging are two ways to slow down without brakes.
Footjamming involves sticking your foot into your bike's back wheel while riding. Dragging, on the other hand, involves dragging your foot on the ground to slow down. Both techniques require practice and skill, but they're essential to learn if you're going to ride a brakeless BMX bike.
As you get more comfortable with these techniques, you can experiment with different tricks and maneuvers to take your riding to the next level. Just remember to always put safety first and wear the proper protective gear.
Step 5: Using Obstacles to Slow Down
In Step 5 of our BMX Bikes With No Brakes guide, we'll cover how to use obstacles to slow down. This technique can come in handy when you're riding fast and must come to a sudden stop or want to add some style to your riding.
When you approach an obstacle, like a bench or a wall, you can use it to slow down by intentionally crashing into it. The impact will absorb some of your speed, allowing you to come to a stop.
It might seem counterintuitive, but with practice, you can control the force you apply and use this technique to your advantage. It's important to remember to wear protective gear and to start with small, low-risk obstacles until you get a feel for the technique.
By incorporating obstacle crashes into your riding, you'll develop your skills and add flair to your freestyle performance.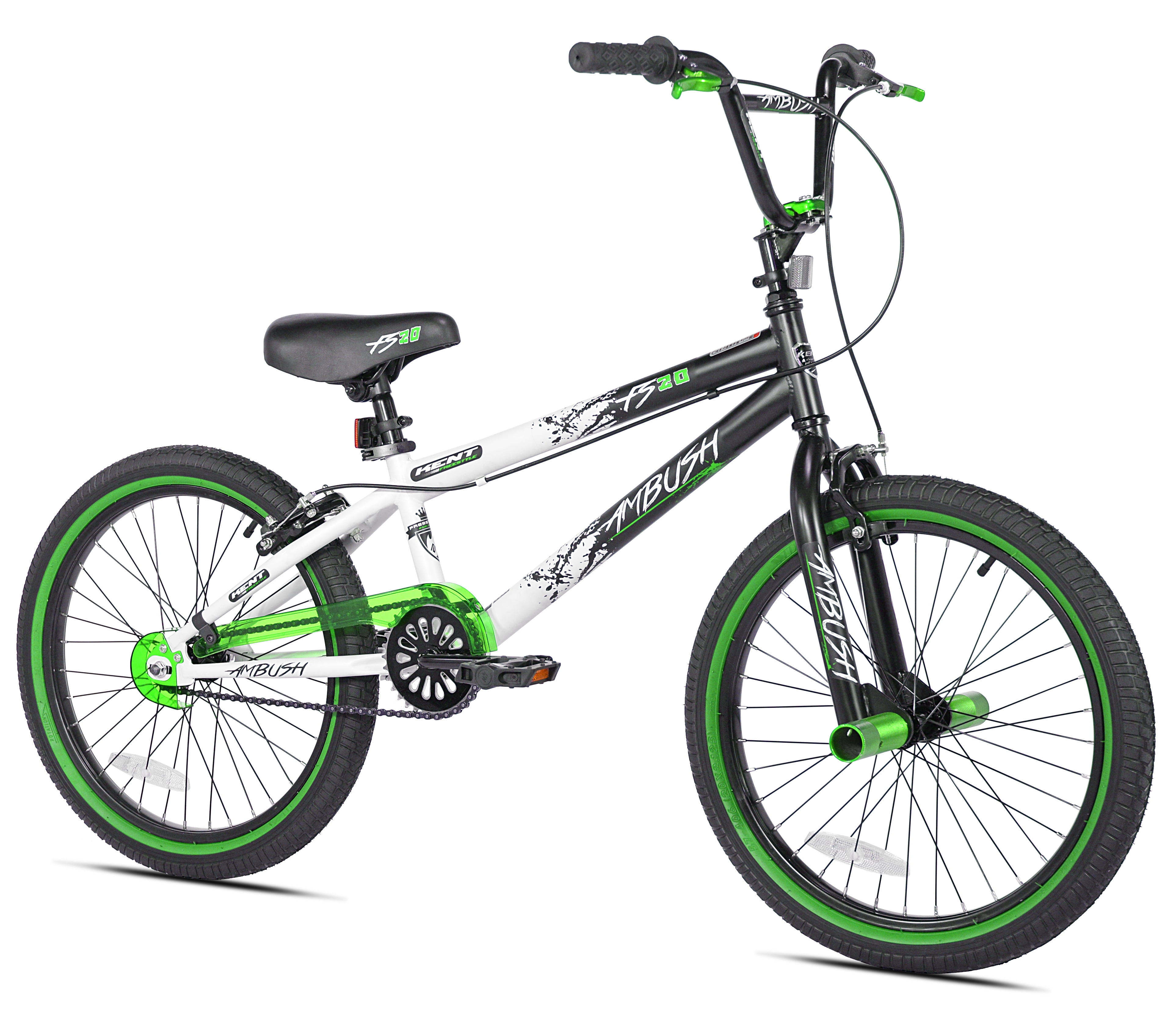 Step 6: Learning to Skid and Power Slide
Step 6: Learning to Skid and Power Slide
As a BMX rider, skidding and power sliding are essential skills to learn when riding brakeless. To skid, shift your weight back and lock up your back wheel while keeping your front wheel straight. This will cause your back tire to slide along the ground and slow you down.
To power slide, turn your handlebars and lean into the turn while locking up your back wheel. This will cause your bike to slide sideways and allow you to take corners more quickly.
These skills take practice and can be difficult to master, but they are important for controlling your speed and maneuvering around obstacles. Practice in a safe, open area and wear appropriate safety gear. You will become a more confident and skilled BMX rider by mastering skidding and power sliding.
Step 7: Practice Riding Downhills and on Flat Ground
In Step 7, it's time to put our skills to the test and practice riding downhills and on flat ground without brakes. This may seem daunting at first, but building up your confidence and control is important.
Start by finding a gentle hill with a clear run-off area and practice riding down without braking. Keep your weight over the back wheel to help control your speed. As you feel more comfortable, you can pick up speed and challenge yourself on steeper hills.
On flat ground, focus on maintaining a steady pace and using your body weight to help control your speed. Remember to always stay alert and be aware of your surroundings. With practice and patience, you'll soon be riding with confidence and skill on your brakeless BMX bike.
Step 8: Learning to Jump and Land Safely
Jumping and landing safely is one of the most exciting yet challenging parts of riding a BMX bike without brakes.
As I progress toward mastering this skill, I've learned that proper technique and practice are key. It's important to start by finding a jump that matches your skill level and gradually works up to bigger jumps. The right speed is also crucial to clear the jump and land safely.
Keep your arms and legs slightly bent during takeoff, and use your hips to lift the bike off the ground. In mid-air, keep your eyes on the landing spot, and use your body weight to adjust the angle and speed of the bike.
As you approach the landing spot, gradually straighten your arms and legs to cushion the impact and distribute the weight evenly. With practice, patience, and perseverance, landing jumps safely on a brakeless BMX bike can be a thrilling and rewarding experience.
Step 9: Advanced Tricks on BMX Bikes Without Brakes
Now that you've mastered the basics of riding your BMX bike without brakes, it's time to take things to the next level with some advanced tricks.
With no brakes to rely on, you'll need to rely on your skills to pull off these moves, so make sure you're comfortable with the techniques you've learned so far. Some advanced moves to try include tailwhips, barspins, and 360s.
Always wear your safety gear and practice in a safe environment before attempting new tricks. Push yourself to try new things and have fun pushing the limits of what you can do on your brakeless BMX bike.
Step 10: Competition and Finding Your Community
The best part about riding a BMX bike with no brakes is that it is part of a community of like-minded riders. We all share a passion for pushing ourselves to learn new tricks and compete against each other in local events.
Finding your local BMX scene can be as simple as searching online for nearby skate parks or bike shops that host events. These events range from casual jams where riders come together to ride and hang out to more competitive contests with prizes and sponsorships.
Regardless of the level of competition, the sense of camaraderie and support within the BMX community is unmatched. I've made some of my closest friends through riding BMX, and I encourage anyone interested in trying it out to take that first step and join the community.
1. Why do some BMX bikes have no brakes?
So, you may be wondering why some BMX bikes don't come with brakes. Well, there are a few reasons for this. First, many riders prefer to use their bike for freestyling and performing tricks; brakes can sometimes get in the way of their movements.
Additionally, some riders feel that riding without brakes improves their control and overall bike feel. However, it's important to note that riding without brakes is unsafe for everyone and should only be attempted by experienced and skilled riders.
Remember to always prioritize your safety and take precautions when deciding whether or not to ride without brakes.
2. Is it legal to ride a BMX bike without brakes?
As someone who loves to ride BMX bikes, I often get asked whether it is legal to ride without brakes. The answer is not so straightforward. In some countries and states, riding a bike without brakes on public roads or bike paths is illegal.
However, typically, it is legal to ride without brakes in skateparks or on private property. It is important to check your local laws and regulations before riding brakeless, as you could be fined or even face legal consequences if caught.
Remember, safety should always come first, and if you are not an experienced rider, it's best to stick with a bike with a reliable braking system in place.
3. How do you slow down or stop without brakes?
As someone who enjoys riding BMX bikes, I can say that riding without brakes can be challenging. To slow down or stop without brakes, you can use various techniques such as foot jamming and dragging, using obstacles to slow down, and skidding or power sliding.
When foot jamming, you stop your bike by placing your foot on the back tire while it's still spinning. Dragging is another technique that involves dragging your foot on the ground to slow down gradually. You can also use obstacles like walls or rails to slow down your speed.
Lastly, skidding and power sliding can stop your bike quickly by locking the rear wheel and causing it to skid. Mastering these techniques takes time and practice, but with dedication, you, too, can learn how to slow down and stop effectively without brakes.
4. What types of riders usually ride brakeless BMX bikes?
I've noticed that riders who enjoy performing tricks and stunts on their BMX bikes often go brakeless. They prefer the extra control and freedom they get without brakes, which allows them to better execute their tricks.
Professional BMX riders, like Boyd Hilder, often ride brakeless to take their skills to the next level. But even recreational riders may choose to go brakeless for the thrill and challenge of it.
That being said, it's important to note that safety should always be a top priority when riding without brakes, and riders must be willing to put in the extra practice and skill-building required to ride safely without them.